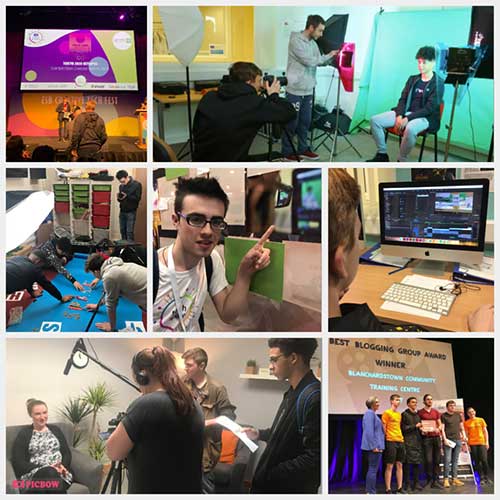 In this course you will learn about a variety of different fields of the creative industry. For the year, you will be working towards either a QQI Level 3 or QQI Level 4 Major Award.
Learners (students) will experience an introduction and many aspects to the world of creative digital media, which is one of the fastest growing industries in Europe.
You will build up your portfolio with coursework in photography, videography, graphic design, web design, multimedia and much more.
Also, you will gain practical, personal and interpersonal skills that will give you the stepping stones to pursue further education, apprenticeships, and when exploring opportunities to work in multimedia related environments.
Progression: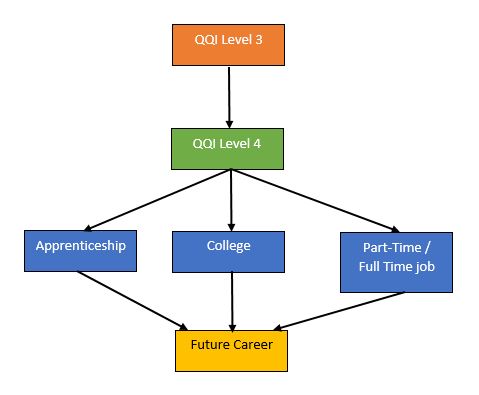 Upon completion of QQI Level 3 you can progress onto QQI Level 4.  With your QQI Level 4 Major Award, you can progress onto college, an apprenticeship or get a part-time/full-time job. Many Digital Media learners move onto studying in colleges such as Dunboyne College, Ballyfermot College, Coláiste Íde, Liberties College or other Level 5 colleges. The instructors at Blanchardstown Community Training Centre will help you achieve your goals!
Course Content:
App Design
Augmented and Virtual Reality
Business / E-Business
Career Preparation
Communications
Digital Marketing
Game Design
Graphic Design
I.T. Skills
Maths
Media Production
Multimedia
Music / Radio Production
Personal Development
Photography
Videography
Web Design
Work Experience
Workplace Safety
Testimonials:
"I finished the Digital Media QQI Level 4 course at BCTC. The staff in the centre are very kind and friendly. The centre is kept well nice and has a lot of nice creative art around the walls when you are walking around the place. I have also made good friends and the people in the classroom are very friendly and nice.
Gavin (the Digital Media Instructor) is also great and helped us all with learning about the course and always helped and supported us with whatever we needed help with, if we were stuck on any work we did not understand.
I enjoyed learning new things in Digital Media and had a good time doing coursework in the classroom. I also liked watching videos since they were very interesting to watch and had of visual ideas on how it looked like by what we were learning in class.
My favourite memory was setting up the photoshoot part, adding colours (blue and red) in the background and taking pictures of each other. Also, doing designs with the lights in the dark and then seeing the after results of the pictures we have taken." – Bryce
"I did the Digital Media course at Blanchardstown Community Training Centre and completed the QQI Level 4. I enjoyed attending the centre as it was a warm and welcoming place to be in day-to-day.
The instructors were very kind, and they were always open to having a conversation with you. Freedom and respect were given and shown to us here.
I liked the fact that we had access to using the digital cameras, Mac computers and other equipment here. I enjoyed being able to express my creativity, use advanced software such as the Adobe applications, and with all of this, I felt like I was given the space to be free and open-minded to multiple creative aspects.
My favourite memory was learning about light painting and double exposure photography." – Jerren.
"I completed the QQI Level 4 Digital Media course. My instructor was Gavin. He was really nice and ways offered help with anything we needed. I did Maths and English with John. John helped me understand Maths which is something I never imagined being able to do. I did I.T. Skills with Gemma and Gavin which helped me learn to use Microsoft Word better than I could before which will help me in college and when I go to work.
I enjoyed my time at BCTC. My favourite memory at the Blanchardstown Community Training Centre was when I became friends with Jerren who I'm starting at the same college with, but doing different courses. The training centre staff were always friendly and everyone says 'Hi' and helps you as much as they can if you're lost or need help. I liked how easy it was to make friends with my classmates." – Kelsey.
"I did Digital Media QQI Level 4 which was a year course. It's a course I actually enjoyed and I never felt like I wasn't learning something, every day I came I always learned something new.
In this course I did several different modules that were all quite different and it really gave me a lot more knowledge on technology. From the first day I came into the Centre it has always been a calm place to be. There was never noise or someone or something getting out of hand it was always just peace and quiet. This was quite weird for me at first because I wasn't used to being in a quiet environment with quiet people but I really adapted into it. I feel it really changed me as well as a person it really taught me how to be in a place and just be calm and quiet which is a really big thing for me so I'm really happy with that.
The staff are amazing big ups to them as well even though there were a few times I was late or missed class they never for once made me feel some way for not coming in. The instructors were amazing always gave a proper explanation and would make sure you have an understanding of what you were been taught.
My favourite memory at the Centre was the day the day we done the light painting which is a photography technique which was really fun to do. I got to take some pictures which looked like I was advertising for a certain company and I got to do some light painting as well which was really fun getting to experience different type of ways photos or ads are being done. This gave you a chance to learn certain things and decide whether it's something you would like to pursue in the future." – Declan.